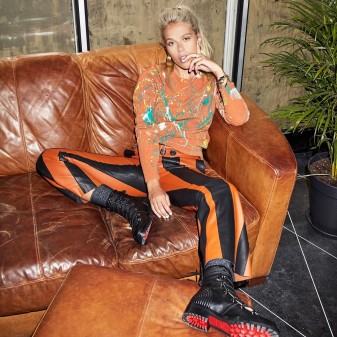 Today, South African performer, songwriter and visual artist, Gina Kushka reveals her new single 'Cure' and its accompanying video.
Directed by Drew Cox (Jorja Smith, JP Cooper), the video for 'Cure' is defined by vibrant bursts of colour, mind-bending effects and a wholly mesmeric atmosphere, serving as a statement of intent from Gina. A visionary through and through, Gina seeks to blur the lines between art and music, challenging her audience to enter her own private wonderland, scored by sizzling synths, a striking vocal delivery and deeply personal lyrics.
Of the track, Gina says: "I wrote Cure after coming out of a six-year relationship. I'd describe the time after the break up as a passionate toxicity, in which we kept going back to each other because we thought it was the only cure for our pain. Instead, we were just constantly re-opening old wounds rather than allowing each other to heal. I wanted to write about this as honestly as I could, because I know this is something a lot of people have experienced. Writing about it eventually became the Cure."
Gina has spent the past few years working tirelessly with some of the most sought-after names in music, crafting hits for the likes of Ray BLK, Sigala and Jonas Blue, with whom she recently collaborated for VEVO LIFT. Her main ambition, however, has always been to hone her own craft and to make her mark on the industry as a solo artist. Now, with a bank of piping hot solo material and world of fresh, innovative ideas ready to be executed, Gina is ready for the world to know her name for more than just a writing credit.
© Deerlily Music