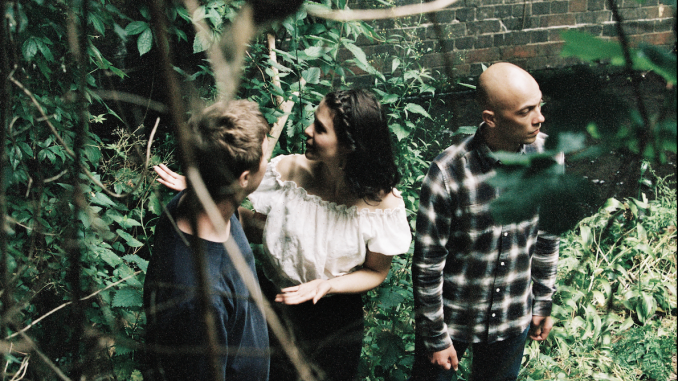 Klicka på bilden, för att se hela bilden
Blackest Ever Black presents Sleep Heavy, the debut album of broken-hearted, downtempo R&B/street-soul and supremely atmospheric, introspective electronics from Jabu: a trio comprised of vocalist/lyricists Alex Rendall and Jasmine Butt, and producer Amos Childs.
The group was born out of Bristol's Young Echo collective: an ecosystem unto itself which has birthed and nurtured a number of other notable soundsystem-rooted projects and artists to date including Kahn & Neek, Sam Kidel, Ishan Sound, Ossia, Asda, chester giles (the title Sleep Heavy comes from a giles poem) and Killing Sound (Childs with Kidel and Vessel).
Jabu's previous 7" singles, though arresting, barely hinted at the level of accomplishment and emotional heft that Sleep Heavy delivers. It's a future Bristol classic with a universal resonance, with songs that are highly personal but deeply relatable, and tripped-out, time-dissolving sound design that both haunts and consoles. It is, first and foremost, a meditation on grief, on loss, making sense of separation and death; but it also looks forward to what might come after the aftermath: healing, acceptance, the chance to begin again.
Childs is one of the most gifted producers of his generation and his work here, grounded in hip-hop but floating free, is a thing of sustained wonder: crepuscular, melancholic – funereal, at times – subtly psychedelic and heavily dubwise, but always concise and purposeful. Stitched together from deep-dug and beautifully repurposed samples, it draws on influences from US R&B to Japanese art-pop minimalism – Mariah to Mariah Carey, if you will – and a rich seam of underground UK soul, boogie, DIY/post-punk, library music and lovers rock; refining and reconstituting these inputs into powerfully immersive, emotionally ambiguous soundscapes as eloquent and engaging as they are understated and bottomlessly mysterious.
There is also of course a distant connection to the Bristol blues of Smith & Mighty and the sultry urban gothic of Protection-era Massive Attack, but Jabu's orchestration of womb-like ambiences, cold synth tones and brittle beats feel entirely sui generis. They provide the perfect setting for Rendell's wounded, imploring and carefully weighted vocals, which are no less extraordinary: nodding to giants like Teddy Pendergrass and The Temptations in terms of phrasing and front-and-centre vulnerability, with something of The Associates' Billy Mackenzie in there too; defeated but defiant. Meanwhile Jas's heavenly interventions, sometimes leading but more often parsed and layered into tremulous, gossamer abstraction, draw a line between the Catholic choral harmonies of her childhood and the ethereal, oceanic sweep of Cocteau Twins. Oceanic is the word: this is music to drown, and drown gratefully, in.
By its end, Sleep Heavy's world-weariness is intact and scarcely diminished, but some light has been admitted, and is visible from the sea-floor. A chance, not a promise. Something to swim towards.
Out September 22, 2017 on LP, CD and digital formats.
PRE-ORDER: Jabu – Sleep Heavy
Jabu – Sleep Heavy:
1. Let Me Know (4:37)
2. Tomb (1:24)
3. Get (5:24)
4. Fool If (4:45)
5. Bones (1:50)
6. On (3:04)
7. Searc (1:07)
8. Wounds (3:46)
9. Which Way (4:48)
10. Lay You Down (2:48)
11. Give (2:30)
© Blackest Ever Black