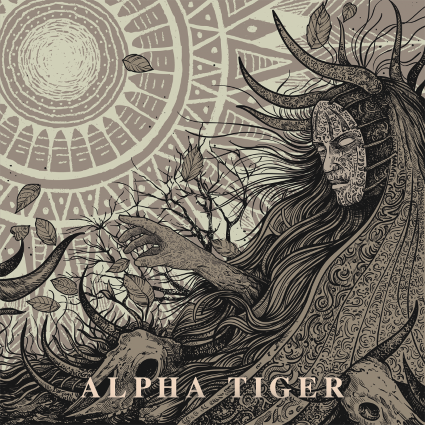 Klicka på bilden, för att se hela bilden
An old rule says that musicians usually write their best material when they leave all commercial considerations, market analyses and the public's supposed expectations aside and simply follow their innermost artistic instinct. Which is precisely how Alpha Tiger from Freiberg in Saxony went about writing and recording their most recent oeuvre, and the result is an offering that's as impressive as it is surprising: their latest, self-titled release sounds rock-oriented and melodic, anthemnic and diverse, and – thanks to its completely analogue production – wonderfully organic. "This is the album that I've always wanted to make," explains Peter Langforth, the band's guitarist and songwriter. "It's definitely our most mature and grown-up release to date."
Mind you, the omens didn't seem to bide all that well, seeing that Alpha Tiger had to come to terms with the departure of their previous vocalist immediately after the completion of their 2015 album iDENTITY. The timing couldn't have been worse: iDENTITY garnered brilliant reviews, album sales were extremely promising, the band received increasing numbers of enquiries for concert and festival appearances; which Alpha Tiger, who suddenly found themselves without a singer, had to refuse. Langforth: "Unexpectedly, we had to deal with existential questions regarding the band's continued survival. It was obvious that we wouldn't have been able to continue the way things were." Luckily their short, intense search via social media produced the solution to the problem, a kind of singing saviour named Benjamin Jaino.
Jaino joined Alpha Tiger in summer 2015 and immediately underwent a real endurance test: without much time for preparations, he found himself performing live on stage alongside his new colleagues Langforth, Alexander Backasch (guitar), Dirk Frei (bass) and David Schleif (drums) only a few weeks after his enlistment, supporting Alpha Tiger shortly afterwards on their joint European tour with Battle Beast. "This way, Benjamin had already fifty shows with us under his belt when we started working on the new album. So we knew what to do to make the new material suit his voice," Langforth describes the challenge that the band faced and praises the new band member's commitment: "Benjamin identifies totally with Alpha Tiger and delivered an awesome performance at the studio. His vocals are full of emotion, he literally screamed his heart out."
All ten songs (plus intro) on the new album are proof of this outstanding vocal performance. Be it the dynamic ´Comatose` with its powerful groove or ´If The Sun Refused To Shine`, which dates back to the early days of iDENTITY but wasn't completed in time. Its dominating guitar delay effects pick up one last time the predecessor album's distinct space effect. In contrast, there's the atmospherically quiet ´Aurora`, representative of Alpha Tiger's new stylistic direction. "´Aurora` sees an integration of 70s influences into our music without allowing a retro flair to emerge. The song with its haunting vocal line and the distorted guitars stands for Alpha Tiger's stylistic future," explains Langforth, who came to terms with his own emotional state during the production process. The same applies to ´Feather In The Wind`, a track that Langforth composed directly after the previous Alpha Tiger frontman had quit the group, which helped him to put a particularly difficult phase of his musical career behind him for good.
Alpha Tiger will be available at physical and digital stores from 25 August 2017 on CD, LP plus CD and for download. The album was recorded and mixed by Richard Behrens, guest musicians were organist Johannes Walenta and Berlin bands Street Hawk and Space Chaser (the choir vocals on ´My Dear Old Friend` & ´Singularity`). "It had always been my dream to record an album totally analogue with a real tape machine", confesses Langforth, who struck lucky at Berlin's Big Snuff Studio. "We'd rehearsed the material ad nauseam beforehand and then recorded all basic tracks practically live. This way, we've come up with a record that we're all totally happy with and that's honest and hand-made in the true sense of the word." No doubt about it: the band's fans will be just as happy!
LINE-UP:
Peter Langforth – guitars
Benjamin Jaino – vocals
Alexander Backasch – guitars
Dirk Frei – bass
David Schleif – drums
© Border Music Distribution