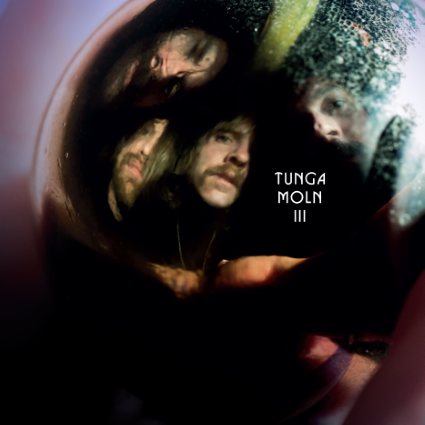 Klicka på bilden, för att se hela bilden
Tunga Moln (Swedish for Heavy Clouds) was formed in Luleå, Sweden in the winter of 2010 by John Strömshed (vocals, guitar) and Fedja Budimir (drums). Originally an instrumental stoner rock two-piece called Wrath Of The Iron Snail, the band soon decided to change their name and start writing in Swedish.
In 2012 the newly christened Tunga Moln hit the studio, aiming to put the perfect fusion of early ZZ Top, Nirvana and Black Sabbath to tape. However, during the recording process the album mutated into something more resembling Swedish 70's prog, earning them comparisons to bands like November and Abramis Brama.
Tunga Moln was released in May 2013 on tiny local label DogHowl Records. Shortly thereafter Rasmus Bogegård (guitar) and Edvin Holm (bass) of Visby-rockers Stereo Generator joined the band onstage, and soon became full-Time members.
In early 2014 the new line-up teamed up with producer and psych-legend Anders Nordh to record album number two. Around the same time the band was discovered by UK label HeviSike Records. Tunga Moln II, a much darker and heavier affair than its predecessor, was released by HeviSike in November of the same year.
The album received great acclaim from various music blogs and honed the band, along with acts like Earthless, Elder and All Them Witches, a spot on the Magnetic Eye Records-released Jimi Hendrix tribute album Electric Ladyland [Redux]. Tunga Moln contributed a Swedish language take of All Along The Watchtower.
In the spring of 2016 Tunga Moln hit the studio once again, this time with metal producer Eric Ljungstedt. On Tunga Moln III the band takes another step away from the prog tendencies of earlier releases and dive head first into more metal-oriented territory, creating a sound that fuses 2014's Tunga Moln II with the twin guitar attacks of front man John Strömshed's Lightsabres project, and beyond.
Filled to the brim with heavy riffing, dark lyrical themes and melodic hooks, Tunga Moln III pummels and burns its way straight into the heart and soul of the listener.
Tunga Moln:
John Strömshed – vocals, guitar
Rasmus Bogegård – guitar, backing vocals
Edvin Holm – bass
Fedja Budimir – drums
© Hevisike