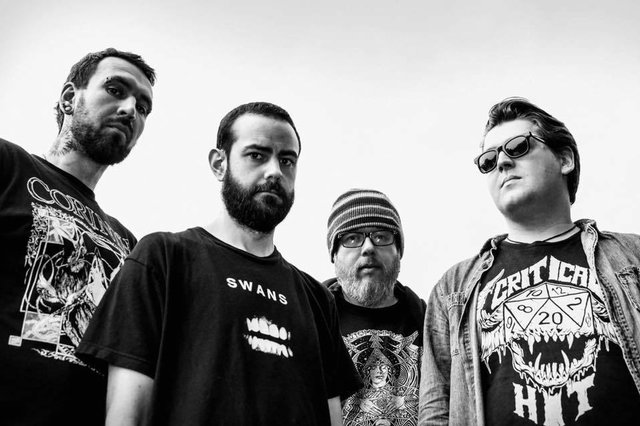 Klicka på bilden, för att se hela bilden
SPACE WITCH today release their highly anticipated 'Arcanum' album on CD, Vinyl and Limited Edition cassette worldwide on Hevisike Records and have announce the first in a batch of UK dates with more to come. See them here:
July 2017
23rd SHEFFIELD – Doomlines III, Mulberry Underground
28th NOTTINGHAM – The Angel Microbrewery
29th NEWCASTLE UNDER LYME – VOID III, The Rigger
August 2017
26th CAMBRIDGE – Portland Arms
October 2017
14th GRIMSBY – Grim Fuzz vol 2, Yardbirds Rock
November 2017
4th NEWCASTLE UNDER LYME – The Rigger
5th MANCHESTER – Riff Conspiracy, Ruby Lounge
Check out 'Cosmonoid' here
Get the album here
Space Witch are a psychedelic stoner/doom band that draw on influences from 70's prog and psychedelia. The band formed in Stoke-on-Trent, England, UK in 2007 and consist of Darren Lee Rowlands (Guitars and founder member), Daniel Mansfield (drums), Peter Callaghan (Vocals and Electronics) and Tomas Cairn (Bass)
In 2008 they released their first demo, a 2 track self-titled affair and quickly followed it up with a stream of gigs in the UK underground. The demo was followed up in 2011 with 'Resurrection' a 7 track demo which included 3 live recordings. In 2013 they released their first EP 'The Alchemy Paradox'-A 3 track mini album which was released by defunct Bristol based label Cosmic Tomb
The band followed this up with a number of shows and festival appearances across UK and saw them embark on the 'Hang the Witch' tour.
In 2014 the band relased a split with the UK Doom band Trollkraftt called 'Wytchkraft' and their self-titled first full length (a double album) released as a joint venture with labels HeviSike Records, Fear Me Music and Orchestrated Dystopia Records. The album was critically accliamed and was chosen as Roadburn Festival's album of the day.To follow the album up, the band toured the UK as well as playing Norway and headlining a festival in Edinburgh which featured on a underground documentary about the Edinburgh scene. Since that time Space Witch have supported bands such as Conan and Mars Red Sky before taking time to write their 2nd full length, 'ARCANUM' which will be released in summer 2017 on HeviSike Records.
© HeviSike Records