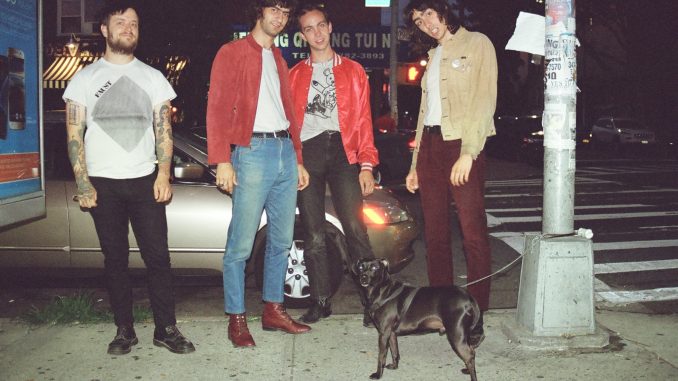 Klicka på bilden, för att se hela bilden
Since their first demo in 2013, the Austin expats in Institute have edged their raw anarcho punk blitz into something much more expansive and nuanced. 2014's Salt EP marked the beginning of the band's working relationship with Sacred Bones, and it explored longer, more experimental song forms. Catharsis, the band's debut full-length, was another huge push forward, with a slightly cleaner production and some krautrock influence creeping in around the edges. Subordination delves even further out of genre, incorporating hard rock and glam and writing some of the most diverse material of their career.
Recently the band shared "Powerstation," and today they are sharing album opener "Exhibitionism." A snarling post-punk punch-in-the-gut. Something like putting the driving force of Warsaw with the angular guitar work of Crisis in a blender.
Vocalist Moses Brown had this to say about the track:
"Shaming public schools for promoting aggressive individualism, promoting isolationism, ignorance, EXHIBITIONISM. All while deep American injustices are neglected and perpetuated in schools named after confederate generals."
The band have also shared a slew of summer tour dates – find both those and the stream of "Exhibitionism" below!
PRE-ORDER: Institute – Subordination
TOUR DATES
Jun 10, 2017: Brooklyn, NY @ Northside Festival – Brooklyn Bazaar
(Sacred Bones 10 Year Anniversary Show)
Jul 14, 2017: Providence, RI @ Ask Ⓐ Punk
Jul 15, 2017: Boston, MA @ Club Bohemia
Jul 16, 2017: Montreal, QC @ Suoni Per Il Popolo
Jul 17, 2017: Toronto, ON @ Smiling Buddha
Jul 18, 2017: Detroit, MI @ El Club
Jul 19, 2017: Chicago, IL @ Ask Ⓐ Punk
Jul 20, 2017: Bloomington, IN @ Jan's Room
Jul 21, 2017: Murray, KY @ Terrapin Station
Jul 23, 2017: Nashville, TN @ The East Room
Jul 24, 2017: Atlanta, GA @ Drunken Unicorn
Jul 26, 2017: Richmond, VA @ Strange Matter
Jul 27, 2017: Washington, DC @ The Pinch
Jul 28, 2017: Philadelphia, PA @ Cousin Danny's
Jul 29, 2017: Brooklyn, NY @ Sunnyvale
Aug 5, 2017: Austin, TX @ Barracuda
Institute – Subordination:
1. Exhibitionism
2. Only Child
3. Prissy Things
4. All This Pride
5. Oil Money
6. Human Law
7. Too Dumb
8. Good Ol' Boys
9. Powerstation
© Sacred Bones Records