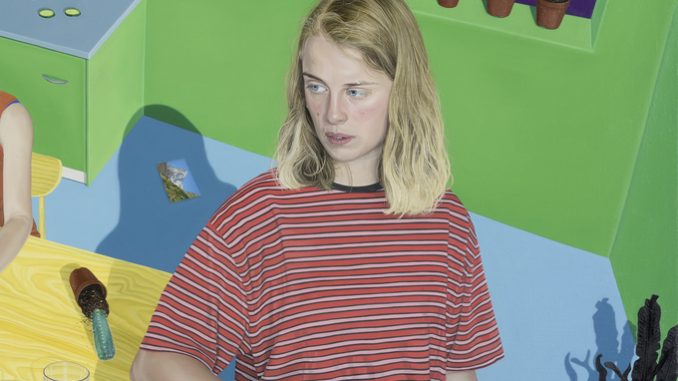 Klicka på bilden, för att se hela bilden
Marika Hackman announces that her second album 'I'm Not Your Man' will be released 2nd June through AMF Records (Loyle Carner) and Sub Pop in the US. Marika has also released the video for current single 'Boyfriend' – a visual call-to-arms to anyone who underestimates a woman's abilities, directed by Libby Burke-Wilde. Fans that pre-order the album can get access to tickets for an intimate show at a secret London venue on 6th March. [ Enter here ]
'I'm Not Your Man', begins with an impromptu hearty laugh. It's not the sound of silliness; it's the sound of liberation, spontaneity and collective joy. There's an open-ended nature to the discussions within the record, conversations surrounding femininity, sex and sexual identity, millennial ennui, the pressures of living in a social media bubble and the perils of being young in a fast-paced industry.
From the opening of single 'Boyfriend' you hear right away this is a raw, rockier and immediately more brazen beginning to a 13-track record. Undoubtedly, it packs a gutsier punch than Marika's prior output. And it's also funny. "I've got your boyfriend on my mind," Hackman teases, finally breaking out of couching her thoughts on sexuality and love in metaphors. "I felt more bold and confident to stop hiding things, to stop talking about water, lakes and trees when I just wanna write about the fact that I've broken up with my girlfriend."
Hackman consciously wanted to turn up the volume in the studio, to live out her teenage fantasy of fronting a raucous band. "I wanted to let rip and lose control. That's the kind of music I've always wanted to make. When I was younger I wasn't looking at Joni Mitchell. I was looking at Nirvana thinking, 'I wanna be like that!'"
To channel some serious feral female energy, Hackman recruited her best mates, London quartet The Big Moon, to play as her backing band on a number of tracks on 'I'm Not Your Man'. They all met at a gig once and an immediate friend crush ensued. "They really captured the soul of what it all meant to me and brought a lot of fun and creativity" says Hackman.
Hackman has recently put together a live band to tour 'I'm Not Your Man' – she'll be creating a racket all of her own. "I can't wait to see the reaction," she says. "That's the thrill of reinventing yourself. I might piss off a lot of die-hard folky fans, but this is still my brain, it's still my world, and I'm gonna create it how I want."
The artwork for the album is a striking oil painting created by artist Tristan Pigott. The image is packed full of references to themes and lyrics from the record, as well as recurring motifs from Tristan's previous work. Marika has today launched an interactive website as a way for fans to explore the depth of meaning behind the artwork. Fans discovering all of the interactive elements of the site will have the opportunity to win a one off cassette with a unique recording of 'Gina's World' personalised to them, with five runners up receiving a handwritten postcard from Marika. [ Visit interactive website ]
© Caroline International Nordics