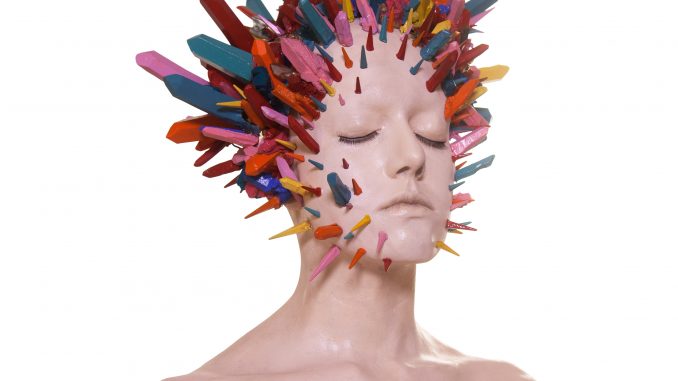 Klicka på bilden, för att se hela bilden
Hannah Rodgers, the 21 year old musician behind Pixx, has announced details of her long-awaited debut album, The Age Of Anxiety and previews its opening salvo, 'I Bow Down'. Following the singles 'Baboo' and 'Grip', its technicolour video was created by Natasha Lawes and premiered by FADER today.
Released on June 2nd, The Age Of Anxiety is a brave step forward from Pixx's first release, 2015's Fall In EP. A deeply personal document of heartbreak, those four folk-infused torch songs drew early critical praise, with the Sunday Times hailing it "one of the most arresting debuts of the year," and let to tours with the likes of Daughter, Lush and Glass Animals.
Instead of tales of loss and affairs of the heart, The Age Of Anxiety finds Rodgers ostensibly place herself outside looking in. Her twelve-song collection seeks to address a generation increasingly isolated by an unprecedented new world order, from the pressures of social media to ever-changing political turbulence. This bold debut borrows its title from W.H. Auden's final poem, charting one man's quest to find substance and identity in a shifting and increasingly industrialised world. Published in 1947, Auden's six-part rumination on human isolation in the modern age parallels the overarching themes of Pixx's work some 70 years later.
Originally from Chipstead, just beyond the fringes of south London where suburban sprawl start to break into countryside, Rodgers experienced a year-long period of insomnia caused by recurring nightmares at age 9 – her first awareness of anxiety. It left a lasting impression, inspiring a fascination with different states of consciousness, and is one of many somnolent events she draws upon for The Age Of Anxiety.
Pixx – The Age Of Anxiety:
I Bow Down
Toes
Grip
Romance Telescreen Everything Is Weird In America Waterslides
A Big Cloud To Float Upon Baboo
Your Delight
The Girls
Mood Ring Eyes
The Age Of Anxiety is released on June 2nd digitally and on CD and limited coloured vinyl formats. Watch the official videos for previous singles 'Grip' and 'Baboo' below.
A newly-formed four-piece Pixx live band will headline Birthdays in London later this month, and has also been confirmed to open for Austra on their upcoming Spring UK and European tour.
© Playground Music