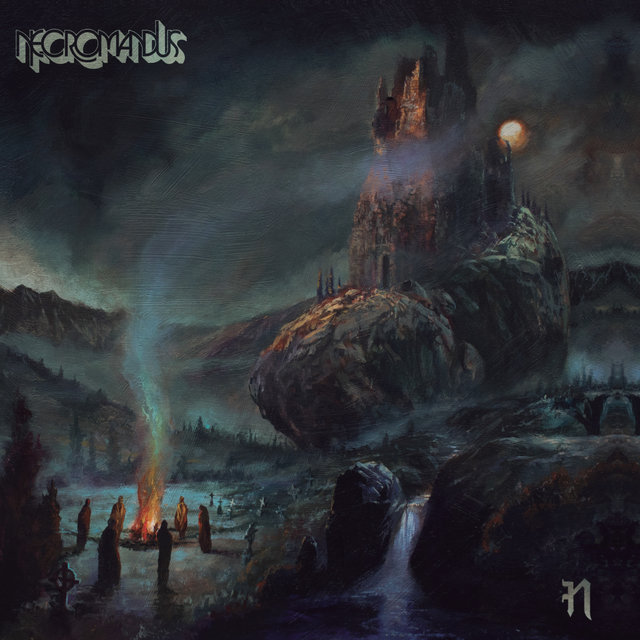 Klicka på bilden, för att se hela bilden
The tale of Necromandus always deserved a happy ending. Circa 1972-73 this fast-rising Cumbrian quartet found themselves under the managerial wing of Black Sabbath's Tony Iommi, recording a debut for the hip Vertigo imprint.
​
Sadly, and suddenly, the band fell apart, and the Necromandus recordings remained lost and forgotten for 20 years. Rediscovered and bootlegged in the 1990s, by the time their 'Orexis Of Death' debut was officially reissued in 2010 three-quarters of the band – guitarist Barry Dunnery, vocalist Bill Branch and bassist Dennis McCarten – had died, leaving drummer Frank Hall as the sole surviving custodian of the band's legacy. And Frank was determined that Necromandus should rise again.
Hear "Don't Look Down Frank" HERE
"Before I shuffle off this mortal coil I just wanted to put one more Necromandus album together," affirms Frank. "It was burning inside. But I really needed the right calibre of musician, and I couldn't find the right people." It wasn't until Frank got talking to local music college graduate Dean Newton that he saw a way forward. Impressed by Dean's musical passion and knowledge as much as his prodigious talent, Frank was moved to invite the 26-year-old wunderkind into this "reincarnation" of Necromandus. "I wanted a vintage sound, but I also wanted to bring a freshness to the band," Frank asserts. "It keeps me young. I'm only 67!"
Soon after came what Frank calls "the epiphany". Necromandus' new keyboardist John Marcangelo – who played with Barry Dunnery in the mid-late 1970s – found rehearsal tapes of unfinished songs featuring Baz's guitar, which they were able to incorporate into these new recordings. This posthumous collaboration is not the only instance of supernatural time-warping on this self-titled second Necromandus album: vocalist John Branch is the son of Bill, the band's original singer. "When I heard his first take, it was just like his dad singing," recalls Frank. "I started to well up, it was really emotional. One of those moments."
Rounded out with Cumbrian-based Filipino bassist Banjo Cunanan, work on the new album proceeded far more smoothly than anyone imagined; so much so, five songs have already been recorded for the third Necromandus album. "It happened really quickly, I was surprised," Frank admits. "We got the right studio, the right engineer, I wanted people on my side who were devout fans, who were really into what we were doing. After that, the ideas just flowed."
You can hear those ideas flowing throughout every minute of 'Necromandus'. As with the elegant dynamics of the debut, this band's ethos is still one of experimentation and versatility, with progressive hard rockers from the band's earliest days like 'I've Been Evil', 'Don't Look Down Frank' and 'Limpert Man' fitting seamlessly alongside extraordinary new full-band collaborations like 'Hymn To Her', 'Alauna' and 'Hardknott' ("about the Roman connection with Cumbria," elucidates Frank; "it's a Roman soldier dying on a mountainside, he wants a bird to peck his eyes out and fly them back to his sweetheart").
44 years after their thwarted heyday, Necromandus channel a compelling blend of ancient and modern energies, capturing the creative restlessness that made their early work so magical while adding vital new moods and textures. "I didn't want to do a boring, straight-on rocking, punch-in-the-face-then-it's-forgotten album. I want these songs to remain, to be remembered," Frank emphasises. "I wanted to put so many colours in there. I've got a group of artists around me, a canvas in front of me and a big palette of colours, and I'm not gonna waste them."
'Necromandus' is released on July 21st via Mandus Music
CD & 180 Gram Vinyl pressings are available for pre-order at www.necromandus.bandcamp.com
© Mandus Music