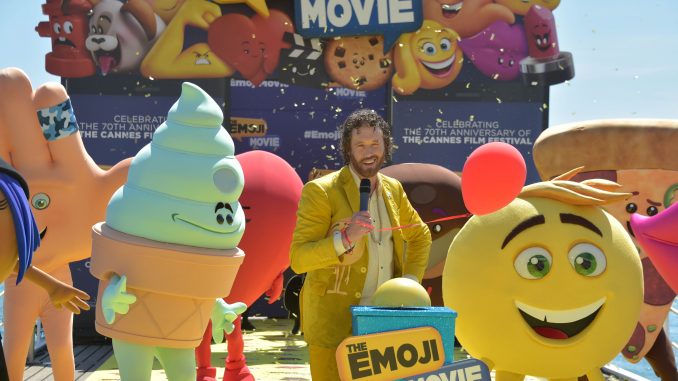 Skådespelaren T.J. Miller som gör rösten till Gene i THE EMOJI MOVIE förhandsinvigde den 70:e filmfestivalen i Cannes på Carlton-piren i eftermiddags.
THE EMOJI MOVIE får biopremiär i hela landet den 11 augusti.
Om filmen
THE EMOJI MOVIE tar dig med till en hemlig värld, inuti din smartphone. Gömd i meddelande-appen ligger Textopolis, en pulserande storstad där alla dina favorit-emojis bor. I denna värld har alla invånare enbart ett ansiktsuttyck – alla utom Gene (T.J. Miller), en uttrycksfull emoji född utan filter och med förmågan att visa en rad olika känslor. Men Gene vill bara vara som alla andra. Tillsammans med vännerna Hi-5 (James Corden) och Jailbreak (Iliana Glazer) ger han sig ut på en app-täcktsfärd genom telefonens olika program på jakt efter koden som kan fixa honom. När en stor fara plötsligt uppenbarar sig blir det upp till de tre vännerna att försöka rädda hela telefonen innan den raderas för alltid. Övriga röster i originalversionen görs av bland andra Patrick Stewart, Sofia Vergara, Jennifer Coolidge m fl. Filmen är regisserad ad Tony Leonidis.
© UIP