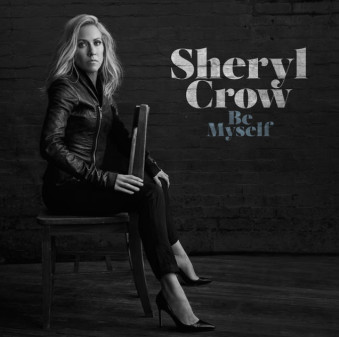 Klicka på bilden, för att se hela bilden
Be Myself är det nya albumet av sångerskan, låtskrivaren och multiinstrumentalisten Sheryl Crow som idag har släppts via Warner Bros Records.
Den 13 april medverkade Crow på HSN där hon bland annat visade upp sin nya modekollektion och framförde låtar från det nya albumet tillsammans med några av hennes absolut bästa hits. Under samma vecka fortsatte hon med framträdanden och intervjuer på The Today Show, The Late Show with Stephen Colbert, SiriusXM's The Howard Stern Show, NCIS New Orleans, WNYC's "Soundcheck," och Watch What Happens Live. Den 19 april spelade hon en intim och utsåld show på Bowery Ballroom i New York.
Idag kommer Crow göra en "Facebook Live Fan Q&A", kl.17:30 (svensk tid).
Kritiker har hyllat den nio gånger GRAMMY-award vinnarens nionde studioalbum, Be Myself, och beskriver det som en återvändo till hennes tidigare rock och pop-sound:
"On Be Myself she sounds more comfortable in her skin that ever before. And nine Grammys, 35+ million U.S. album sales, and five multi-platinum records into her career, why wouldn't Crow be happy being herself?" – Nylon
"Sometimes the comfort zone is where a musician belongs. That's the charm of Be Myself, Sheryl Crow's pointedly titled new album, which gleefully and unashamedly returns to the sound of her hit albums from the 90's … straightforward songs that don't hide their fondness for the Rolling Stones and the Beatles." – The New York Times
"Be Myself seems poised to reconnect with old-school Sheryl Crow fans." – Rolling Stone
"Sheryl Crow is allowing the pendulum to swing back toward the rock-rooted sound and attitude with which she first found success nearly a quarter-century ago." – The Los Angeles Times
Lyssna på nya albumet Be Myself nu!
Sheryl Crow kommer ge sig ut på turné under våren och sommaren, som även inkluderar datum på Willie Nelson's Outlaw Tour.
Apr 22 Tropicana Showroom Atlantic City, NJ
Apr 28 Pepsi Spring Jam Panama City Beach, FL
Apr 29 Walt Disney Theater Orlando, FL
Apr 30 Ruth Eckerd Hall Clearwater, FL
May 19 02 Shepherds Bush Empire London, UK
June 6 Humphreys by The Bay San Diego, CA
June 8 Greek Theatre Los Angeles, CA
June 10 The Mountain Winery Saratoga, CA
June 11 The Mountain Winery Saratoga, CA
June 21 Wolf Trap – Filene Center Vienna, VA
June 23 Funhouse Fest Williamsburg, VA
June 24 North Carolina Museum of Art Raleigh, NC
June 25 Chastain Park Amphitheater Atlanta, GA
June 28 Beacon Theatre New York, NY
June 29 Rochester Internat'l Jazz Fest Rochester, NY
July 4 Willie Nelson's 4th of July Picnic Austin, TX
July 7 Ravinia Festival Highland Park, IL
July 11 Center for the Performing Arts Carmel, IN
July 12 Meijer Gardens Grand Rapids, MI
July 14 Chautauqua Institution Amph. Chautauqua, NY
Sep 13 Red Butte Amphitheatre Salt Lake City, UT
Mer information och biljetter till Outlaw Tour finns här.
Datum följer;
July 1 Shrine on Airline New Orleans, LA
July 2 Starplex Pavilion Dallas, TX
July 4 Austin 360 Amphitheater Austin, TX
July 6 Walmart Amphitheatre Rogers, AR
July 8 Joe Louis Arena Detroit, MI
July 9 Summerfest Milwaukee, WI
July 16 Lakeview Amphitheater Syracuse, NY
Hemsida
Facebook
Twitter
Youtube
© Warner Music Sweden