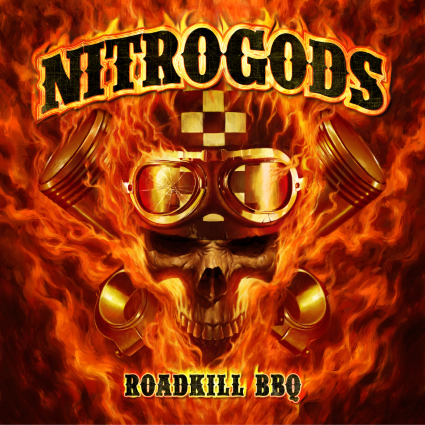 Klicka på bilden, för att se hela bilden
Available in 3 different physical formats:
Format : CD
Packaging: Digipack
Format : 1 LP + CD
Packaging: Gatefold, 180gr. Vinyl, transparent Red with black streaks, printed inner sleeve, incl. CD version of the album (CD incl. 2 Bonus Tracks)
Format : BOXSET (Album CD + Bonus CD + Extras)
Packaging: High-quality 3-D embossed metal box
Limited to 1000 copies worldwide
Box content:
– Roadkill BBQ CD in Digipack
– Bonus CD "Tribute To Lemmy" in printed cardboard sleeve (only here available)
– Stainless Steel Flask 177 ml with lasered Nitrogods Skull and Band logo
– Sticker
Info:
An old rock'n'roll proverb says that musicians always have their best inspiration on tour. Since Nitrogods, a rock trio from Hanover and Stuttgart that has travelled large parts of Europe since 2011, are more or less permanently on tour, they tend to come up with plenty of new ideas all the time. And so their latest (third) album release Roadkill BBQ also has a tour story with a definite sense of black humour that would be impossible to invent: on their way back from a show in France, vocalist/bassist Oimel accidentally ran over a squirrel. Sad for the little rodent, good for the group's scheduled next record. Because in answer to Oimel's tongue-in-cheek question what to do next (quote: "Should I call an undertaker or what?") drummer Klaus Sperling suggested a barbeque party in memory of the incident which ended so tragically for the squirrel. So the title Roadkill BBQ had been born before the first song for the coming album was even written. All animal rights activists rest assured that the unfortunate squirrel was of course not barbequed. Having said that, there are no sworn statements that confirm its Christian funeral either.
Talking of which: there are plenty of sworn statements confirming Nitrogods' classic rock'n'roll sound. Whenever Oimel, Klaus Sperling (Freedom Call, Primal Fear) and guitarist/vocalist Henny Wolter (Thunderhead, Primal Fear, Sinner) come together to play, their songs sound like a wild ride through the history of rock music: "Basically, Roadkill BBQ is an homage to our heroes, quite a few of which have departed this world recently," Wolter explains, listing as points of reference Motörhead's late Lemmy and Rick Parfitt of Status Quo, in addition to bands such as The Who and ZZ Top. At the same time, the new Nitrogods album has established even more distinctly the group's own unmistakable style, which – created by experienced musicians – has been honed to a clear profile. Wolter: "Naturally, the rules of a dynamic rock concert have also affected our songwriting. You learn which kind of song makes you feel most comfortable on stage and what you should perhaps avoid so things don't get tight for the vocalist."
Roadkill BBQ, however, sounds tight all the way through. Nitrogods have recorded 14 haunting tracks, starting with the programmatic opener ´Rancid Rock`, playing a boogie on the title track, which is dedicated to Rick Parfitt (Wolter: "The song sounds like Lemmy singing a Status Quo number") and giving the slide guitar extravaganza ´My Love´s A Wirebrush` a bluesrock feel that brings to mind Rose Tattoo. Nitrogods dig deep into music history on ´Where Have The Years Gone`, their unashamed homage to The Who. "Oimel and Klaus saw the band during their final tour and where absolutely awed," Wolter explains, "that's why we simply had to record this number." The same applies to ´The Price Of Liberty` which the three musicians intentionally wrote in the tradition of great Ted Nugent classics, even shifting down to halftime tempo. The first video track to be released from Nitrogods' latest album will be ´Boogeyman` with its heavy Zakk Wylde-style riff.
Roadkill BBQ was produced at the ´Peppermint Park Studios` in Hanover, again with the support of sound engineer Helge Engelke (Fair Warning) and mixed by metal pundit Achim Köhler (Amon Amarth, Primal Fear, Brainstorm). "The ´Peppermint Park Studio` was ideal for us because it has an amazing postwar collection of expensive Neumann and Telefunken microphones," Wolter explains. "Every one of them is probably worth more than my car and a brilliant sound is guaranteed every time." Vintage equipment has been an integral part of the Nitrogods concept since the band was founded in 2011, the musicians wanting recordings of their handcrafted rock´n`roll to sound as authentic and natural as possible.
So Roadkill BBQ is set to blow the band's fans away in every respect and will be available in three different formats, with the luxury fan edition standing out. The metal box featuring 3D embossing includes, along with the regular Digipak, also the bonus CD Tribute To Lemmy with four Motörhead covers plus a hip flask (for hard liquor) sporting a laser Nitrogods logo plus a sticker. All those subsequently suffering from Nitrogods fever will be able to see this tirelessly touring act at a venue in their neighbourhood in 2017 (see tour dates). And of course, all squirrels beware!
DISCOGRAPHIE
NITROGODS (2012)
RATS AND RUMOURS (2014)
neu: ROADKILL BBQ (VÖ: 26. Mai 2017)
Line Up:
Henny Wolter – Guitars
Oimel Larcher – Bass, Gesang
Klaus Sperling – Drums
TOURDATES
10.03. D-Schweinfurt – Stattbahnhof
11.03. D-Hechingen – Rock Cafe
25.03. D-Andernach – JUZ Live Club
01.04. D-Zwickau – Club Seilerstrasse
08.04. D-Hannover – Musikzentrum (Nitrofest)
28.04. A-Fusch – Rockfest Fusch
29.04. D-Reinhardsthagen – Weser Metal Meeting
20.05. D-Schwäbisch-Hall – Club Alpha 60
26.05. D-Wuppertal – Live Club Barmen
27.05. D-Arnsdorf – Rainy Days
03.06. D-Aerzen – Schrappmühlen Open Air
09.06. D-Nürtingen – Kuckucksei
10.06. D-Starnberg – Food Rock Festival
16.06. D-Homberg – MISE Open Air
24.06. I-Natz – Alpen Flair
15.07. D-Manrode – Fest Evil
28.07. D-Essen – Nord Open Air
…more dates to follow incl. more EU Shows!
ROADKILL BBQ TOUR 2017
Special Guests: MF Ruckus (USA) + Kickin Valentina (USA)
29.09. D-Hamburg – Logo
30.09. D-Klingenthal – Gambrinus
01.10. D-Erfurt – From Hell
02.10. D-Mannheim – 7er Club
03.10. D-München – Backstage
04.10. D-Stuttgart – Cann
05.10. D-Düsseldorf – Pitcher
06.10. D-Hagen aTW – Stock
07.10. D-Oldenburg – Cadillac
© SPV GmbH