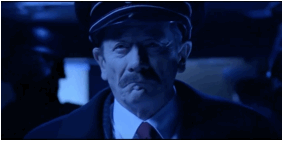 Klicka på bilden, för att se hela bilden
James Vincent McMorrow has premiered the video for new single 'One Thousand Times", taken from Choice Music Prize nominated album We Move.
Directed by award-winning, Dublin based director Bob Gallagher, James Vincent McMorrow writes about the video: "I hate being in my own videos. I said to Bob that if we were going to make a performance video then something had to happen in it to elevate it into more interesting territory, that it had to have a point that was more than just 'guy on stage plays music'. So we gave it a point…. Bob can articulate it better than I can."
Describing the concept for the "One Thousand Times" video director Bob Gallagher writes:
"When the dictator enters James and the band become prisoners within their own performance, and the complacent audience who try to ignore the malicious presence in the theatregradually come under attack. No one stands up for anyone else so eventuallyeverybody becomes a victim of the regime. At the end you have a reversal where James' and the dictator become locked in an exchange where James uses the stage to acknowledge him directly. He sort of pleads with the dictator and you get the sense that he might have made some small impact on him. The video is obviously an exaggerated surreal scenario, with no intention to trivialize complex political issues, but we've reached a point where fact and reason aren't the powerful mind changing tools they should be. We don't have the middle ground of debate so much as we have streams of diametrically opposed opinions flying back and forth. I think that art can be the middle ground or abstract space where these subjects can be humanized and discussed, and where perceptions can potentially be changed. That may be optimistic but you'd hope that at some point the dictator realizes why he's the only one clapping." – Bob Gallagher
After a string of sold-out dates and electrifying performances including TV appearances on JimmyKimmel in the US and Later… With Jools Holland in the UK, James Vincent McMorrow will return to American and European stages in the summer for a run of festival appearances.
TOUR
Mar 15 Shibuya WWW Tokyo, Japan
Jun 3 The Roots Picnic Philadelphia, USA
Jun 4 Field Trip Toronto, Canada
Jun 6 The Magic Bag Ferndale, USA
Jun 7 The Hi-Fi Indianapolis, USA
Jun 8 Bonnaroo Festival Manchester, USA
Jun 10 Terminal West Atlanta, USA
Jun 11 Haw River Ballroom Saxapahaw, USA
Jun 13 Jefferson Theater Charlottesville, USA
Jun 15 Brooklyn Steel New York, USA
Jul 7 Trinity College Dublin, Ireland
Jul 15 Super Bock Festival Lisbon, Portugal
Aug 18 C/o Pop Cologne, Germany
Sept 9 Festival Number 6 Penrhyndeudraeth, UK
*More dates to be announced soon*
© Skiva