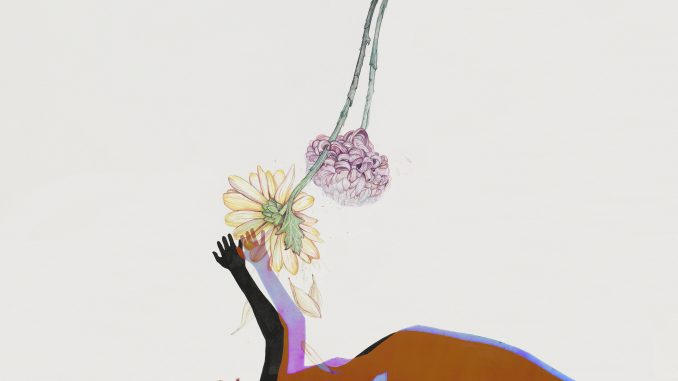 Klicka på bilden, för att se hela bilden
"Warm, immediate pop music that sounds so out of the ordinary." Q ****
"Glistening synth-pop." Record Collector ****
Baltimore trio Future Islands have released a new single from their upcoming fifth studio album The Far Field. The chest-pounding 'Cave' speaks directly to the bruised but brave romantic in each of us. For a unique spin on a lyric video, the band enlisted American sign language interpreter Jonathan Lamberton to sign 'Cave''s lyrics. Listen to the track in full here and watch the video below.
Future Islands will perform at the 6Music Festival in Glasgow this evening – ahead of next month's sold out UK tour – and have added more European tour dates. Tickets go on sale today at 10AM GMT. A full list of shows can be found at the band's site – www.futureislands.com
October 26 – VILNIUS, LT, Compensa
October 27 – TALLIN, EE, Rock Café
October 29 – HELSINKI, FI, Tavastia
October 31 – STOCKHOLM, SE, Münchenbryggeriet
November 1 – GOTHENBURG, SE, Pustervik
November 4 – OSLO, NO, Sentrum Scene
November 6 – HAMBURG, DE, Docks
November 8 – MÜNCHEN, DE, Theaterfabrik
November 9 – LUXEMBOURG, LU, Den Atelier
November 10 – BRUSSELS, BE, Ancienne Belgique
November 13 – AMSTERDAM, NL, Paradiso
November 16 – STRASBOURG, FR, La Laiterie
November 17 – FEYZIN, FR, L'Epicerie Moderne
November 18 – EURALILLE, FR, L'Aeronef
The Far Field refines and builds on the breakthroughs of their 2014 album Singles, bursting with undeniable hooks and disarmingly honest lyrics written by Samuel T. Herring (vocals, lyrics), William Cashion (bass, guitars) and Gerrit Welmers (keyboards, programming).
Samuel, William and Gerrit began writing new material in January 2016 on the coast of North Carolina, and continued throughout the year in Baltimore before road-testing these songs at a series of secret shows under fake names. Later that year, they travelled to Los Angeles to record with Grammy Award-winning producer John Congleton at the legendary Sunset Sound, where everyone from The Beach Boys to Prince have laid down masterpieces. With string and horn arrangements by Patrick McMinn, The Far Field is the first Future Islands record to feature live drums by Michael Lowry, who joined the band prior to their sensational performance of 'Seasons (Waiting On You)' on David Letterman's late night TV show. Blondie's Debbie Harry also makes a guest appearance, in a duet with Herring on penultimate track 'Shadows'.
Across The Far Field's twelve love songs and odes to the road, Future Islands brilliantly expresses the band's central themes they've been exploring for the last decade: that there is power in emotional vulnerability, that one can find a way to laugh and cry in the same breath – and be stronger for it.
The Far Field is released worldwide on April 7th. It will be available digitally, on 180gm white and standard black LP, CD, cassette formats and as a unique, first-of-its-kind miniature LP. For pre-order information.
FUTURE ISLANDS ONLINE:
Hemsida
Facebook
Twitter
Instagram
© Playground Music