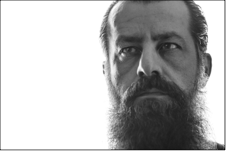 Klicka på bilden, för att se hela bilden
"His voice comes not from the lungs or the diaphragm, but from deep in the soul and lights up the most primal regions of your brain" – American Songwriter
Acclaimed singer-songwriter Sean Rowe, who releases his new album 'New Lore' through Anti- on 7th April, has announced a selection of UK/EU tourdates for coming May and June. Find the list of confirmed shows below. Tickets are on sale now.
"It's been too long away from my second home in Europe! I can't wait to bring all these new songs to you all!" says Rowe.
He also unveiled the video to his new song 'Newton's Cradle'
today
.
New Lore's simple yet powerful sound focuses on Rowe's renowned baritone and evocative songwriting, delivering a collection of affecting stories of desperation and resilience. His voice is beautifully augmented throughout by stirring arrangements including flourishes of piano and a string section. The album was recorded in Memphis at the historic Sam Phillips Recording studio and produced by Matt Ross-Spang, who began working at the legendary studio when he was 16 and recently won a Grammy for his work with Jason Isbell.
Rowe says of the album, "This is a record about loneliness and a longing for connectedness. This yearning for a sense of home. Musically, I think this record is more focused than any before. I've become really aware about what it is that I do well, allowing my voice to come through and lyrically grabbing people with the stories.. Those are kind of my superpowers. The instruments on the record never intrude on my voice and words."
It is a sound that echo's Rowe's recent crossover hit 'To Leave Something Behind' a song that resonated with a whole new wider audience after being featured in the recent Ben Affleck film 'The Accountant.'
Sean Rowe tour dates:
Fri 26 May – London (GB) – St Pancras Old Church
Sat 27 May – Antwerp (BE) – Arenberg 1
Mon 29 May – Amsterdam (NL) Vondelkerk
Tue 30 May – Hamburg (DE) – Mojo Jazz Club
Wed 31 May – Berlin (DE) – Monarch
Fri 02 June – Paris (FR) – Les Etoiles
© Playground Music