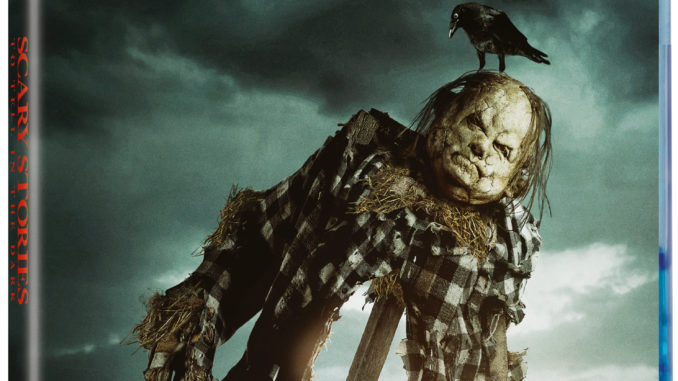 SCARY STORIES TO TELL IN THE DARK
Spökhistorier, USA 2019
Regi: Andre Øvredal
I rollerna: Zoe Margaret Colletti, Michael Garza, Gabriel Rush, Austin Abrams, Dean Norris
DVD/Blu-Ray/VOD
(Scanbox)

BETYG: TRE
På svenska kallar vi det spökhistorier. Ni vet historierna som ungarna berättar när de är på läger eller liknande om min kusins kompis klasskompis syster som hade gjort något eller hade hört något. Visst kommer ni ihåg dessa vandringssägner.
Amerikanen Alvin Schwartz skrev ett otal spökhistorier för barn under sin karriär, och en av de mest kända var nog novellsamlingarna Scary Stories to Tell in the Dark som börjades ges ut i början av åttiotalet. Det blev tre volymer och de var rikt illustrerade av Stephen Gammell. Guillermo Del Toro hyser ju en kärlek för det lite mer makabra och har nu tillsammans med norrmannen Andre Øvredal gjort en filmatisering utav några av dessa spökhistorier.
Året är 1968 då vi får träffa Stella och hennes kompisar. Det är Halloween i den lilla hålan Mill Valley ute på bondvischan i Pennsylvania där de alla bor. I byn finns det ett gammalt övergivet hus som sägs vara hemsökt och det är dit våra vänner flyr efter att ett litet bus eller godisspratt gått fel. I huset hittar Stella en bok med spökhistorier som visar sig vara mer än historier.
Filmen är väldigt detaljrik och upphovsmännen har gjort ett enormt jobb för att hitta prylar och annat för att få det att se ut som 1968 vilket ger en stämning av autenticitet. Monsterna i filmen är ju även de identiska med Stephen Gammells illustrationer. Filmen är dock till skillnad från böckerna inte direkt lämpad för en yngre publik.
Extramaterialet är väldigt tunt bara lite kortare intervjuer och trailers.
Skriven 2020-01-11