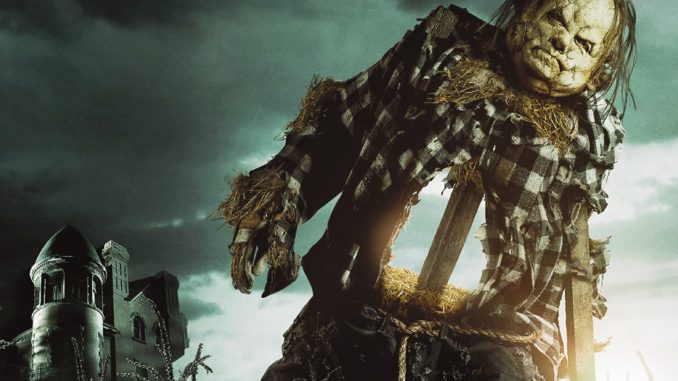 Regi: Andre Øvredal
I rollerna: Zoe Margaret Colletti, Michael Garza, Gabriel Rush, Austin Abrams, Dean Norris

BETYG: FYRA
PREMIÄR: 2019-08-09
Det är tyvärr ett faktum att skräckfilmen alltför ofta hamnar i händerna på folk som varken vet vem Frankenstein, Exorcisten eller George Romero är. De förväntar sig bara att kaffepengar skall generera i maximal utdelning om de säger Bu till en lättköpt publik tillräckligt många gånger.
När nu boktriologin Scary Stories To Tell In The Dark av Alvin Schwartz producerats av en mästare som Guillermo Del Toro (Pans Labyrint och The Shape Of Water med mera) och regisserats av norrmannen Andre Øvredal lägger man ribban i takhöjd.
Förhoppningarna infrias med råge Scary Stories är en vördnadsfull hyllning till skräckfilmen i allmänhet och den klassiska varianten med spöken, gamla hemsökta hus och stilistiskt lätt kryddat med ingredienser från saligen insomnade Tales From The Crypt.
Det är ingen tillfällighet att storyns unga hjältar tycker att årets bästa film är Night Of The Living Dead från 1968 – samma år då filmen utspelar sig – och har väggarna tapetserade med Karloff, Lugosi och Chaney, lobbycards plus lite Hammerfilm posters här och var.
Nåväl vi skriver alltså 1968, och befinner oss i den lilla fridfulla småstaden Mill Valley under brinnande Vietnamkrig. Bara miljöskildringen är fångad på kornet. Så här såg en småstad i USA ut på den tiden och karaktärerna, då inte minst ungdomarna är som vax i Øvredals händer.
Alla undviker medvetet ett gammalt halvt förfallet hus där det det sägs att spöket efter en ung flicka Sarah Bellows går igen. En handfull ungdomar tar Halloween som förevändning att göra ett besök och får med sig en märklig bok hem. Det unika med boken är att den skriver sig själv eller rättare sagt att Sarah Bellows i blodskrift likviderar ungdomarna en efter en.
Vandrande lik och fågelskrämmor blir vardagsmat i deras nya tillvaro. Kusligt värre, välspelat och stilistiskt utstuderat välgjort är det här definitivt. Precis som när Hammer i England var aktiva då det begav sig, för övrigt.
Tuppkammen reser sig på alla som försvarat skräckfilmen, och hävdat att får kreativiteten och kvalitetsmedvetenheten bara flöda så har genren fortfarande få motsvarigheter i någon annan genre.
Skriven 2019-08-08