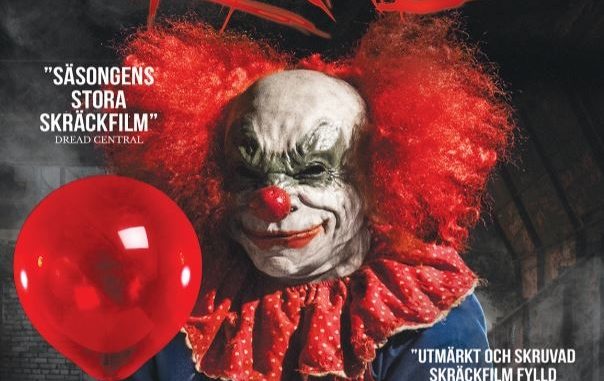 Clownslaktarskräck, USA 2017
Regi: Christopher Ray
I rollerna: Jonathan Lipnicki, Tim Abell, Richard Moll, Mark Christopher Lawrence, Victoria Knefal
DVD/Blu-Ray/VOD
(Njutafilms)
BETYG: Två
Enligt DVD-omslaget har Dread Central kallat den här filmen "Säsongens stora skräckfilm". Flera frågor uppstår. Vilken säsong åsyftas? Är citatet verkligen hämtat från deras recension av CIRCUS KANE? Har recensenten inte sett fler skräckfilmer under året?
CIRCUS KANE är en film av Chris Olen Ray, son till B-filmslegenden Fred Olen Ray. Chris går i sin fars fotspår, och har på relativt få år regisserat en hel hög filmer, de flesta för The Asylum och Syfy Channel. Den här filmen är dock gjord för ett annat bolag.
I en story som delvis är knyckt från THE HOUSE ON HAUNTED HILL kontaktas ett gäng mer eller mindre överåriga ungdomar, samtliga jobbiga och osympatiska, av en mystisk man som utlovar 250 000 dollar till den som överlever en natt i hans spökhus. Det ska väl inte vara några problem, tycker de jobbiga typerna – den värste av dem är en snubbe som har en butik som säljer samlarprylar.
En massa clowner och annat dyker upp och ställer till det, och det visar sig att alla blodiga upptåg besökarna utsätts för inte alls är specialeffekter – nej, självklart slaktas de på riktigt. Mannen bakom det hela, Kane, är en före detta cirkusdirektör som blivit tosig.
Njä, det här är väl inget vidare. Skådespelarna är till större delen rätt dåliga, filmfotot är platt, det fläskas på med en del blod, men filmen är seg och utdragen. På slutet serveras en oväntad, men inte helt logisk, twist.
CIRCUS KANE känns mest som ett försök att rida på clownskräckvågen och framför allt nyinspelningen av DET. Det finns inte speciellt mycket att säga om filmen och jag har glömt bort det mesta av den.
Skriven 2018-01-21