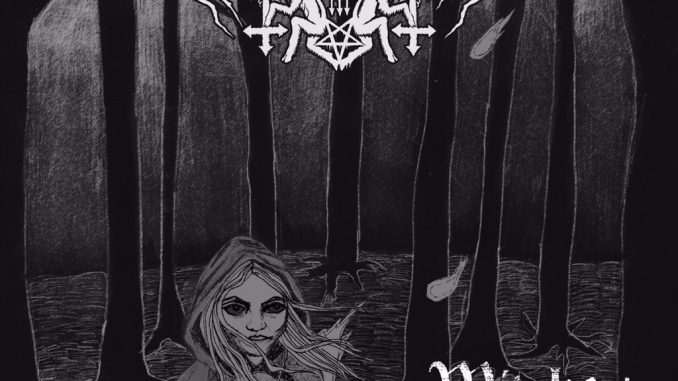 Klicka på bilden, för att se hela bilden
19th of January 2018 the witches will rise again. Nekrokraft compiles their earlier demos on their new album "Witches Funeral". Today Nekrokraft releases the previously unreleased tracks "Wrath of the Heavens" that was written in the same era as the demos. Combining a raw, brutal and untamed sound with blackend melodies shows the first primal steps of these fallen creatures. With a total of ten tracks of thrashing black metal that contains eight original songs and covers of Slayer "Angel of Death" and Bathory "Satan my Master". Let the hammer fall, this is the hour of the witch.
Angst: "We often refer to these demos as the forgotten times of Nekrokraft, since we have a hard time remembering the recording session at all. We were wasted and gave in to our fleshly desires…"
Nekrokraft is spending the last half of 2017 in the studio recording their new album "Servants" that will be out late spring of 2018. The band have previously released the mini-album "Will o' Wisp" on The Sign Records 2016. Singer Angst have since Nekrokrafts last album joined Swedish blackened thrash legends Witchery. The songs on Witches Funeral are taken from three different recording sessions and are compiled from two demos and previously unreleased material.
"it has an excellent balance of the harsh and the melodic, powerfully delivered and addictive in content but in all honesty the whole compilation is a damn good listen." – Metal Talk (Rate 9/10)
"Combining a raw, brutal and untamed sound with blackened melodies." – GBHBL (Rate 9/10)
"Witches Funeral by Swedish blackened thrashers Nekrokraft is one such gem." – Moshville Times
"Their hellishly brutal, uncompromising and raw thrash metal is noisy, reeks of death metal to come and is about as subtle as a kick to groins." – Toilet ov Hell
"Whilst demo compilations like this are normally only of interest to hardcore fans of the band in question, Witches Funeral is that rare example of such a compilation that is worth recommending both to newcomers, and also to those already familiar with Nekrokraft from previous album Will O'Wisp. It is a hugely enjoyable ride, full of dark blasphemous energy and the pure thrill of metal, and it's no surprise that vocalist Angst has been recruited by Swedish blackened thrash legends Witchery." – The Sound Not the Word
© The Sign Records