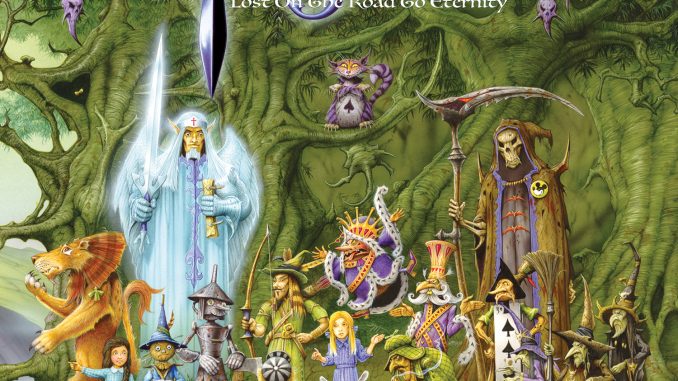 Klicka på bilden, för att se hela bilden
So what exactly are the unmistakable criteria of a typical Magnum song? First of all of course founder members' Bob Catley's charismatic vocals and guitarist Tony Clarkin's melodic, relentlessly driving, rocking songwriting. In addition, the British band's compositions all ooze a magic that's difficult to describe, an enchanting ambience created by Clarkin`s poetic lyrics that create sonic images in their fans' minds. No doubt about it: it's the interplay of a number of different elements that have made Magnum one of the most charismatic British rock acts for more than forty years and have their music stand out to this day. Their latest album Lost On The Road To Eternity, scheduled for release on Steamhammer/SPV on 19 January 2018, sees Magnum celebrate an impressive anniversary: it's their 20th (!) studio recording and – without giving away too much at this stage – one of their most diverse and at the same time homogeneous offerings to date.
What is the reason for this new creative zenith? Clarkin: "As I had started to write the songs even before we embarked on our most recent tour, I subsequently had time to let my initial ideas sink in for a few weeks, which helped me realise that I was on the right path," he says, looking back with satisfaction. "That was a good feeling which inspired me to write more powerful numbers. Apart from that, the usual Magnum formula applied: I go to the studio, try out ideas on the guitar or on the keyboards and do my damnedest to write the best Magnum song of all time."
Lost On The Road To Eternity features a number of haunting melodies, be it the stalwart opener ´Peaches And Cream` or ´Storm Baby` with its a powerful rock riff. The first single to be released will be ´Without Love`, which is based on a substantial groove, and the collaboration with Tobias Sammet on the title track, a kind of artistic thank you by the Edguy /Avantasia frontman in appreciation of Catley's guest stint on a number of Sammet's releases, is by no means less spectacular. 'Lost On The Road To Eternity' is additionally enhanced by atmospheric arrangements courtesy of the Wolf Kerschek orchestra. The album ends with a song called ´King Of The World`, which is dominated by a bluesy guitar – a worthy finale to a richly coloured album.
And although Clarkin and Catley are of course the most important protagonists in the Magnum cosmos, the other three band members also play an eminent role. Especially since – along with bassist Al Barrow, who has been a band member since 2001 – the group's current line-up features two new names in keyboardist Rick Benton and drummer Lee Morris. Benton joined the Magnum camp in December 2016 to replace long-standing member Mark Stanway, while Morris took over from Harry James only a few months ago. "Harry has two other bands, Thunder and Snakecharmer, and it became more and more difficult to coordinate our schedules," Clarkin explains and confesses: "I must admit that I was reluctant to let him go, but after Lee had drummed for us for the first time and we realised that he adds even more rhythmic complexity to our songs I'm more than happy with the line-up change." Clarkin feels just as positive about his new keyboardist Rick Benton: "Rick has brought a breath of fresh air and interesting ideas into the band. His style is carefully considered and he seems to know intuitively what enhances our material. You just have to give him a rough idea of the arrangement and he immediately comes up with a perfect solution." All you have to do is listen to and enjoy the atmospheric middle part of ´Welcome To The Cosmic Cabaret` to appreciate what a positive addition Benton is to the Magnum fold.
You don't have to be a prophet to realise that Magnum fans will love Lost On The Road To Eternity. Especially since the album features, along with the brilliant cover artwork by Rodney Matthews, a total of four live bonus tracks (´Sacred Blood – Divine Lies`, ´Crazy Old Mothers`, ´Your Dreams Won`t Die` & ´Twelve Men Wise And Just`), recorded at Magnum's 2017 performance at the Leyendas Del Rock festival in Alicante, Spain. To cut a long story short: there's no way Magnum will get lost on the road to eternity!
LINE-UP:
Tony Clarkin – guitars
Bob Catley – vocals
Rick Benton – keyboards
Al Barrow – bass
Lee Morris – drums
MAGNUM Live 2018:
16.03.18 SE-Stockholm – Fryshuset Klubben
17.03.18 NO-Oslo – John Dee
18.03.18 SE-Gothenburg – Sticky Fingers
19.03.18 SE-Malmoe – KB
© Border Music Distribution