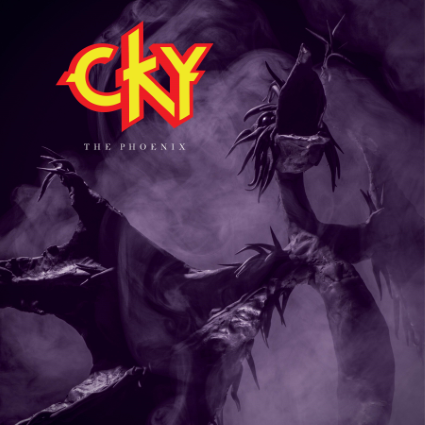 Klicka på bilden, för att se hela bilden
Release Date: 16/06/2017
Singles: "Days Of Self Destruction" (01/05), "Replaceable" (02/06)
Once upon a time, CKY burned it all down, with a raucous, anarchic, hard rock sound soaked in the skate-punk culture that birthed them and a hard-partying lifestyle onstage and off that decimated relationships and reputations in its wake. Now, CKY rises from the ashes of the aftermath with The Phoenix, a bold mission statement that hoists the flag high for big, raw, authentic,
earth shaking rock n' roll, liberated from useless pretense. CKY's sonic rebirth sounds as incendiary, expansive, and groovy as the Joshua Tree desert where it was made, and as decadent and funky as the strip-club adjacent rehearsal room where the songs were jammed out into submission. Each song is a forceful meditation on what makes CKY so killer.
Chad I Ginsburg, the band's guitarist and singer, steps into the frontman role with charisma, charm, and bravado, confidentlydelivering a diverse performance as he claims a position that was clearly rightfully his to own. He's joined in enduring partnership and musical and personal chemistry by fellow CKY cofounder, Jess Margera, the drummer whose extracurricular work in projects like The Company Band (with guys from Clutch and Fireball Ministry) expanded CKY's horizons as much as Ginsburg's solo work has as well. The duo returned to their primary project refreshed and reenergized, with bassist Matt Deis (ex-All That Remains), who first joined CKY in 2005.
Guns N' Roses, Metallica, and Deftones have all personally invited CKY on tour, cementing a legacy as a hard-charging live act. CKY built a worldwide fanbase of dedicated acolytes, friends, and supporters, lovingly dubbed the CKY Alliance, with a broader group of musicians, athletes, and other creative types in the CKY family, both literally and figuratively.
Carver City (2009) debuted at #4 on the Hard Music charts. It was the second CKY album to debut in the Top 50 on the Billboard 200: An Answer Can Be Found (2005) hit #35 upon its release. But if anything, The Phoenix is a spiritual successor to CKY's breakthrough, Infiltrate•Destroy•Rebuild (2002), with a hint of the appropriately titled debut, Volume 1 (1999). "We're grown adults now with an eagle-eye perspective on who we are, what we do, and how to do it right," Ginsburg declares, with matter-of-fact certainty. "None of us are out there in the clouds. We're pretty well-grounded people that have an honest perspective on where we're at." And where they are at is with a career-defining album that reshapes the brightest spots of CKY's past while charging forward
into a bright, self-assured future. "We made sure that we went into the studio with our guns blazing," Margera says. "This isn't a bunch of parts thrown together. We focused on the songs. We didn't 'have to' make this album, we wanted to."
In keeping with CKY tradition, The Phoenix was recorded at the famed Rancho De La Luna studio in California, which has played host to Daniel Lanois, Queens Of The Stone Age, Victoria Williams, Fu Manchu, and Mark Lanegan, among others. The studio was founded by David Catching, touring guitarist for Eagles Of Death Metal (among many credits), and late "desert sound"
visionary Fred Drake.
The new album "The Phoenix" will be released worldwide on June 16th!
Line Up:
Chad I. Ginsburg (Guitars/Vocals)
Jess Margera (Drums)
Matt Deis (Bass/Backing Vocals)
© Border Music Distribution