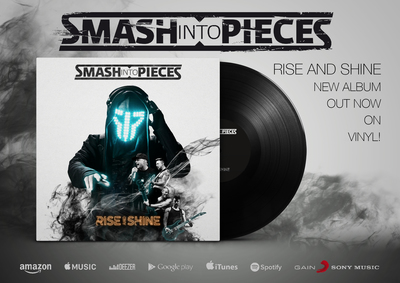 With the new album "RISE AND SHINE" recently released (27:th of jan 2017) and with the band reasently ended a major North American Tour with multi-platinum selling "AMARANTHE" Smash Into Pieces now returns to tour Scandinavia and Europe.
Rise And Shine is now also available on Vinyl!
It's only been 4 months since the band finished their last European Tour and now Germany, Uk, Norway, Sweden And Denmark awaits.
All Dates
April 29 – Nya Kupolen, KARLSKOGA SE
April 30 – HardRock Café, NO
May 12 – Östgöta Rockfestival, NORRKÖPING SE
May 13 – Warwick Music Hall, MARKNEUKIRCHEN DE
May 14 – Maze, BERLIN DE
May 15 – Marx, HAMBURG DE
May 16 – MTC, KÖLN DE
May 17 – Underworld, LONDON UK
May 18 – Sputnik Caré, MUNSTER DE
May 19 – Uni-festival, LUBECK DE
May 25 – Adrenaline Cruise, STOCKHOLM SE
May 26 – Bomber Bar, MOTALA SE
May 27 – Lygten Station, COPENHAGEN DK
June 09 – Midnight Sun Festival, ÖVERTORNEÅ, SE
June 18 – Dreamhack, JÖNKÖPING, SE
July 08 – Peace and Love, BORLÄNGE, SE
July 22 – Uddeholmsladan, HAGFORS SE
Aug 04 – Skogsröjet, REJMYRE SE
Aug 05 – Övik kalaset, ÖVIK, SE
Aug 19 – VOX-Festivalen, ÖREBRO SE
Aug 26 – Eksjö Stadsfest, EKSJÖ SE
Sep 01 – Oscars Nite Club, VARBERG SE
© Gain Music Entertainment