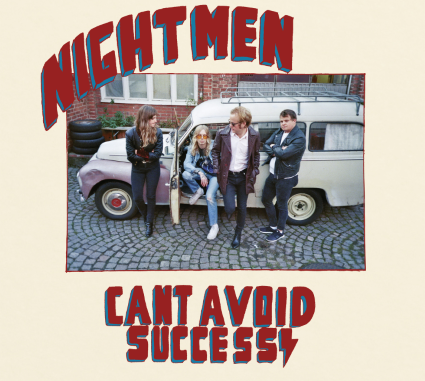 "Can´t Avoid Success" is Nightmen´s second album set to be released the 7th of April 2017. Combining garage rock-poses and sugary sweet power pop, Nightmen have made a name for themselves as one of the most interesting new rock bands to come out of Sweden. Nightmen recorded their second LP in AGM-studios together with Joakim Lindberg. With the rural countryside as a backdrop a softer album with even more powerful pop sensibility was made. However the attitude is very much intact and the leather jackets still fit perfectly.
Watch Ahahahah (Oh No) Video here:

"Charmingly, vibrant garage rock with nods to the pop music of the 60's"
– Gaffa about debut EP "Girl for you"
"You can't be tough in all situations, the softer side of things needs to come forward as well. In the case of Nightmen the punk rock converge with the hook-laden power pop. You just can't live without melodies"
– Hymn about debut album "Fifteen minutes of pain"
Nightmen started out in late 2014 in Malmö, Sweden. The members are previously known for being part of acts such as Terrible Feelings, Yast and MF/MB/, however Nighmen is something completely different.
Discografy:
Can´t Avoid Success CD/LP – 2017 – Lövely Records
Fifteen Minutes of Pain CD/LP – 2016 – Lövely Records
Girl For You 7″ – 2014 – Rundgång Records
Facebook:
https://www.facebook.com/Nightmenrock
Lövely Facebook:
http://www.facebook.com/LLYrecords
Lövely Records Homepage:
http://llyrecords.com
Pre-order:
http://freighttrain.se/en/
© Lövely Records