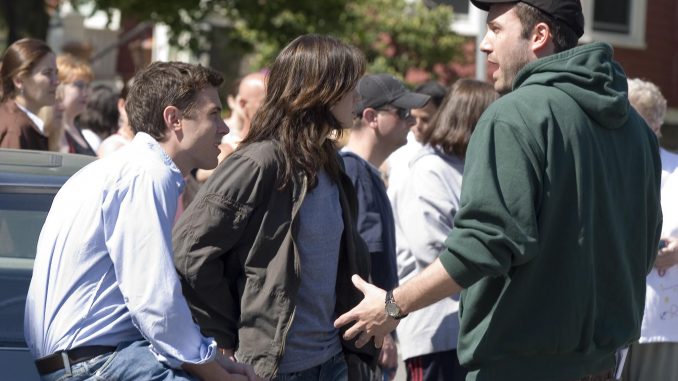 Klicka på bilden, för att se hela bilden
BEN Affleck has dodged Japanese bombs and bullets in Pearl Harbour, performed death-defying feats in Daredevil and portrayed the tragic figure of Superman star George Reeves in Hollywoodland.
But the Oscar winning star's greatest screen challenge came when he stepped on the other side of the camera to tackle his directorial debut in the crime thriller, Gone Baby Gone.
"I was terrified, it was really very scary because there is a lot of responsibility," admits 35 year-old Affleck when the film was first screened at the Deauville Film Festival.
"I think I was terrified because I wanted it to work so much. A lot of actors direct movies but I thought the stakes were kind of higher for me because I really, really cared."
"And I had decided that if it wasn't going to work it wasn't going to be for lack of effort. So I just worked as hard as I possibly could on every single thing, every single day. I said that if this failed it would not be because I didn't work as hard as I possibly could…every day."
Based on the best-selling novel by Dennis Lehane – the author of Mystic River – Gone Baby Gone is the taught and uncompromising story about a two private detectives who reluctantly agree to take part in the search for a missing child who has been abducted from her home in one of the toughest neighbourhoods in Boston. The police appear baffled by the child's disappearance and the two investigators, Patrick Kenzie and Angela Gennaro – played by Casey Affleck and Michelle Monaghan – find themselves being sucked into a dark world of gangsters, crime and corruption where everything is not always as it appears.
Ben Affleck first became aware of Lehane's powerful novel about five years ago, though he is a little hazy about the precise circumstances under which he read the book with a view to adapting it for the big screen. "Somebody sent me the book and I'm embarrassed because I don't know who it was. Maybe it was more than one person who sent it to me," says Affleck who was immediately struck by the book's sense of realism. "As soon as I read it I thought this might be an interesting movie," he says, adding that it was also clear that reducing the novel to a serviceable film script was not going to be easy.
"It was so complex, plot-wise and structurally – it was not a conventional screenplay structure. So I had some challenges," he says in modest understatement. So Affleck went to the people who had the film rights to Gone Baby Gone and he asked if he could have a go at adapting a screenplay. "But I did not want any money, in case I failed because I did not want a script out there with my name on it that might be completely dysfunctional. They were pleased by that offer so they accepted." Then Affleck teamed up with Aaron Stockard and began writing.
Affleck had previously written for the screen. He and Matt Damon won the Academy ® Award for their Good Will Hunting screenplay. But he still admits that getting the Gone Baby Gone script right was a tough task. "It was harder than I thought," says Affleck who says his skills are in dialogue and character and that he finds plot difficult to write. "So I thought I could rely on the plot here [in the novel] and fill in the colour between the lines, but I made a mistake with that assumption. It was really, really hard because you pull a few things apart and then you realise how everything relies on everything else and it can all fall apart. So it was a really tough thing to do, to try and distil it all and have it still make sense."
He nods in agreement when it's suggested that there might have been an added pressure because last time round as a writer he won the Oscar. "Yes there was an added pressure. But the screenplay aspect of it ultimately would be upstaged by the movie itself. Nobody goes to a movie and watches the script. There is a lot of other stuff going on. So I hoped to camouflage the script and wrap a movie around it."
In his handling of the film, Ben Affleck does not try to sanitise the dark and grotesque side of humanity that is at the core of Gone Baby Gone. But he agrees that becoming a father – he and his actress wife Jennifer Garner have a daughter named Violet – has heightened the emotional involvement he has with a story like this which delves into the nightmarish world of violent crime and child abuse.
"This is a big transition for me in my life because I feel things more deeply…anything to do with kids. It just makes a big difference in my life..".. Having a child is like taking the deepest core vulnerable aspect of myself, reaching in and taking it outside of my body," he says.
Not surprisingly, there were elements of the movie drama that were hard to shake off….for instance the scene when the investigators uncover the horror perpetrated by a sick trio of child abusers. "That always stayed upsetting and it was upsetting for a lot of the crew.
If that is not going to upset you at a certain point then you are pretty cold," says the director.
In Gone Baby Gone, Ben Affleck has a stellar cast that includes Morgan Freeman, Ed Harris, Amy Ryan and Michelle Monagan. The uncredited member of the cast, however, is the city of Boston itself. Affleck readily concedes that much of the power on the screen comes from having the camera focus on the down and dirty parts of the city where much of the development of the plot of Gone Baby Gone takes place.
"It was really important for me to have it feel authentic," says Affleck who had spent time going round the city and scouting out the ideal locations. Securing the best locations was vital because Affleck firmly believes that the movie audience is looking for something that they can't see at home or don't have access to.
"Sometimes that is to see Jedi fighters, or robots that build up and fight one another, or giant apes that climb up the Empire State Building or Orcs that fight. We did not have any of those things but what we could show people what it was like in one of those neighbourhoods that they would never have access to, bars that they would be too scared to go into, a world that they would never get to see. All of that is something really unusual and rare and kind of fascinating. And the only way to do that and to make it really worthwhile was that it had to be authentic. We dedicated a lot of time and energy to making that right and real. So we found basically the worst locations that we could."
Which is why Affleck and his crew and cast would turn up unheralded at a rough and ready bar to world their big screen magic. "We would go in to the bars at 8am the bars would be full and we say…'Ok, you guys are in the movie'…and we would buy them beers. We would use the real people. We would go into the bars in the morning and say…'Ok whoever is here, stay here. Stay at the bar and we are going to film you.' "
Ben Affleck also admits that there was an occasional sense of unease when the film makers arrived in some areas and a couple of times Affleck and is crew found themselves the focus of police attention.
"There were a couple of places where people were really drunk. We would go in and people were hostile towards us and kind of threatening. We went into a few neighbourhoods where there was a lot of drug dealing going on and a couple of times the cops swooped in on us and almost arrested us because they thought we were trying to buy drugs and then they saw me and asked what we were doing. That happened twice with the police – the other time they swooped in on us because there was a human trafficking ring in a house. It was wild! We would end up in the worst parts of the area and we really came across some wild stuff…mostly a lot of drugs, drugs sales. People can be pretty ugly to each other and we saw some pretty terrible stuff."
When he cast his 32 year-old brother Casey Affleck in the lead role in Gone Baby Gone, Ben was aware that some cynics might question his motives or his judgement. But he stresses that he was convinced that Casey's star would be on the ascendancy after portraying Robert Ford opposite Brad Pitt in The Assassination of Jesse James By The Coward Robert Ford.
"I showed the studio his screen test from Jesse James so they knew he was good," says Ben Affleck. "And I said he was going to blow up from that and that he was going to be great in this. I think they believed me…more or less…but there were some people who thought Casey was in the movie because he was my brother. But there is nobody who sees the movie and thinks that any more!"
Miramax
Skriven 2008-11-21