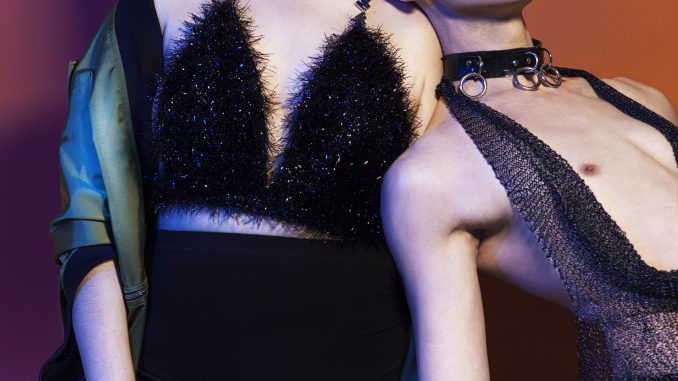 Klicka på bilden, för att se hela bilden
HABITS are the future of club music, a steamy, smoky vision of quicksilver dancefloors fueled by the dark, fierce and alluring. Based in Melbourne, Mohini Hillyer and Maia Connolly produce dark-club hits that explore the nature of ugly, complex feelings through the strength of a thick bass line, emotionally warped lyrics and the catharsis of an inevitable drop . Described as "going to a yoga class on MDMA", HABITS are indisputably the most intimate, empowering and sweat-inducing live act in Australia.
With their new single 'Shame/Desire' we immediately hear a sentimental dark-club hit in it's purest form, it evokes industrial elements and techno beats to describe "ugly feelings underneath clammy skin"; those gut-wrenching emotions that constantly blossom and rot within us. Described by the act as "an apology for being a piece of human garbage who will never change", this is jittery club music unapologetically stuck in fifth gear.
Formed in 2013, HABITS have impressively honed their own sounds and rapidly consolidated an ever-expanding audience independently, conquering the dance electronic scene with flawless productions and a DIY spirit. HABITS have played the most prestigious boutique festivals in Australia including Dark Mofo, Golden Plains and Sugar Mountain. Following their highly acclaimed debut EP Ugly Cry (2016), HABITS toured with cutting-edge electronic artist Peaches in December. Their latest single "Shame/Desire" is the first of a collection of self-produced pulsating tracks; see the duos upcoming tour dates & find single artwork / links below.
Follow them down, follow them down.
TOUR DATES
Thu 28 Sep – The Curtin, Melbourne
Fri 29 Sep – The Bird, Perth
Sun 1 Oct – ANU Art School Ball, Canberra
Wed 4 Oct – Caroline, Wellington
Thu 5 Oct – Golden Dawn, Auckland
Fri 6 Oct – Underbelly Arts, Sydney
Sat 7 Oct – Black Bear Lodge, Brisbane
OTHER UPCOMING DATES
Fri 11 Aug – GOMA: Up Late, Brisbane
Thu 7 Sep – Town Hall (Melbourne Fashion Week), Melbourne
© Christopher Hansell